S T O R E
SEE WHAT NEW SINGLES HAVE BEEN RELEASED BELOW!!!
Shimmy Shimmy with Shé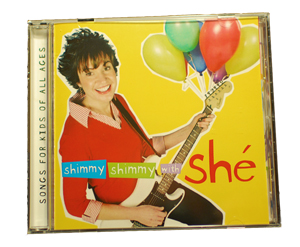 Shimmy, shake and march along to Shé's latest CD, "Shimmy Shimmy With Shé" nominated for a Western Canadian Music Award in the category Outstanding Children's Recording!You'll be moving and grooving to this musical extravaganza! Her song "Mom" is a tender tribute to all moms out there. "For The Children" describes Shé's music and she dedicates this album to her #1 fans!
Price: $15.00
Hi! My name is Shé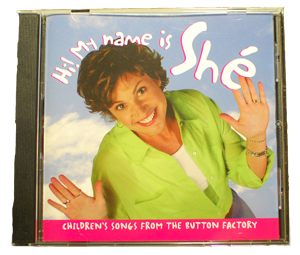 "Hi! My Name is Shé" has been referred to as "a charming marvel". An album that will entertain, educate and delight young children. From the opening song, "Red Liquorice & Other Treats" children and parents will find themselves singing and dancing along to the catchy and upbeat tunes. Songs like "Sleepover" and "Under My Bed" will charm the kids and "Going To Kentucky" will have them 'rumbling' till they cannot stop! An action-packed, musical smorgasbord.
Price: $15.00
To order these products online simply click on the "add to cart" button and follow the instructions. We accept major credit cards through PayPal's secure checkout. When you are finished shopping, you can use this button to checkout:
Orders will be shipped by ground postal service. Charges are $3.50 CAD for the first item and $1 for additional items. Please allow 2-4 weeks for standard delivery (faster service available – contact us for details). Refunds will be issued within 30 days by cheque.
WHAT'S NEW???
Shé's LATEST RELEASES "I LOVE ROCK N ROLL" AND "TWINKLE TWINKLE REMIX" March 2012
TWINKLE TWINKLE REMIX
Shé's RELEASE "DAD", which is, of course, a lovely and catchy tribute to Dad's. (Dad's who love hockey may dig the middle of the song. Or as we call it in the biz, "The Bridge").
or scroll down to purchase from ITUNES
OR……..FEELING LIKE A LITTLE MELLOW, ADULT TUNE, NOW THAT THE KIDS ARE TUCKED IN?? Check out Shé's "PEBBLE ON THE SAND".
Or how about her latest release "Today Is The Day" Released Decemeber 2011 and only $1.29

Available from the Following Stores:
Kidsbooks (Vancouver)
iTunes:

| Hi! My Name Is Shé

| Shimmy Shimmy With Shé
DAD MP3
cdbaby: