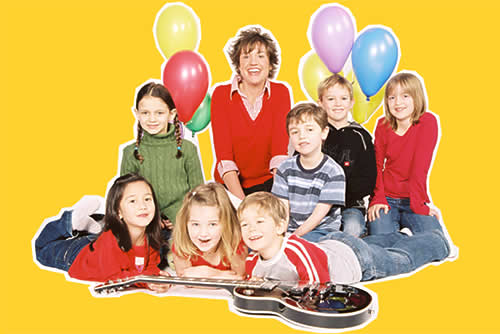 Shé is a children's singer and songwriter from Vancouver, British Columbia. She performs upbeat, high-energy interactive shows for children aged 3-10 years. Shé has a charming way with children and keeps them captivated throughout her show.
Shé is one of Western Canada's top Children's performers. This singer songwriter uses her guitar and Sheryl Crow like voice to create a fun-filled, high energy family show. She keeps her audiences dancing, singing and playing along with instruments as she performs her own music as well as standards. Shé's second album "Shimmy Shimmy with Shé" was nominated in 2006 for Outstanding Children's Recording at the Western Canadian Music Awards and for a 2006 SHAI Award.

Her show starts with a small group of children at the front of the stage dancing along to Shé's first song. By her third song, a quarter of the kids in the audience are singing and dancing right up front. After a few more songs it is time for the Shé Band. Large colourful buckets brimming over with more than 500 percussion instruments are displayed on stage. They are quickly handed out and suddenly every child is holding an instrument. With skilled organization and leadership, Shé leads her band with each instrument having a "solo" part. Their enthusiasm is contagious and the power of music and children shines. It is pure magic. As children's enthusiasm is contagious, adults in the audience find themselves singing and dancing along with her catchy tunes. Her desire to bring music to all children and let them experience playing an instrument in a band sets her show apart.

Here is what one Fan had to say:

"Hi Shé! We heard you in Vancouver at the Harmony Arts Festival this summer. My 2 ½ yr old LOVES your new CD. We play it almost daily. We have hooked her playgroup on it. We are going to have a "Marching Band" birthday for her even. I am so excited to have your CD and we will definitely be buying more of your music. Thank you for making GREAT music. PS When, I love you Mum comes on, my daughter runs to me and kisses and hugs me. It is the sweetest thing ever!" L. Hyland (Atlanta, Georgia)

Shé's show is thrilling audiences in preschools, elementary schools, community groups, festivals and public concerts. She has received great feedback from schools for her music education and she has created a 20 page Teachers resource and study guide to go along with her CD's. Her fan base is ever increasing through CD sales, which are almost at10,000, and through her performances in such venues as: Vancouver's International Children's Festival, Wainwright, Alberta's Multiplex, West Vancouver's Harmony Arts Festival, Champlain Heights and Steveston Community Centres, and numerous performances at preschools and elementary schools. Enthusiasm, energy and fun; Shé's charismatic performances, captivates and engages audiences through participation in a musical experience not to be missed!
Shé's show is approximately one hour in length and can easily accommodate large audiences. Shé tours locally and across Canada to preschools, elementary schools, community groups, festivals and public concerts.
var _gaq = _gaq || []; _gaq.push(['_setAccount', 'UA-18614542-1']); _gaq.push(['_trackPageview']);
(function() { var ga = document.createElement('script'); ga.type = 'text/javascript'; ga.async = true; ga.src = ('https:' == document.location.protocol ? 'https://ssl' : 'http://www') + '.google-analytics.com/ga.js'; var s = document.getElementsByTagName('script')[0]; s.parentNode.insertBefore(ga, s); })();