CHECK OUT Shé's LATEST 2013 RELEASES ON THE MERCHANDISE PAGE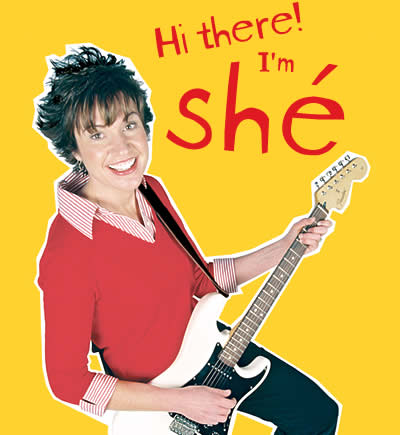 I have been a children's singer and songwriter since 2000. Some of the best years of my life! "I have loved writing and performing music for children, as well as entertaining and teaching, through music. I am choosing to retire early! Winding down my performances by end of 2013. The reason? I love what I am doing! This is my passion!. I admire people who can walk away from their passion. I believe that there are other doors to be opened as a result of closing this one. And I am looking forward to those new opportunities. So, on that note, I will never stop loving, writing, creating and sharing music. I cannot thank you enough, my fans, friends, and family, who have thought of me and supported me throughout. Love and Blessings to all!! she@munchkinmusic.net.
AND JUST LIKE THAT, SOMETHING NEW TO "SHARE" 
 My song "New Kid" was picked by Recess Music to be included on this wonderful CD! I am just thrilled to be part of such a positive and wonderful project. What a Blessing! Read on for reviews and details:
Share! is the fourth release in the critically acclaimed Best Foot Forward Music Series. SHARE! teaches our kids lessons of generosity and kindness with songs chosen for their ability to engage, educate, entertain, and encourage children to think about selflessness and giving. Just like the other discs in the Best Foot Forward series, SHARE! features many contrasting styles and engaging, fun tunes enjoyable for kids and parents alike!
The release date for Share! is March 26th, 2013.
The SIMPLE Moms ran a review of Share on Jan 24th.
http://www.thesimplemoms.com/2013/01/recess-musics-best-foot-forward-series-has-a-new-album-share-cd-review.html
As They Grow Up: A review of Share! was posted on February 6. The new album from Recess Music's Best Foot Forward Share! is filled with music focused on sharing,generosity and good will. http://www.astheygrowup.com/2013/02/recess-music-presents-share-review.html
Shakefire: An A+ review of Share! (graded at 4.35 points out of a possible 4 points) was posted on January 30. I love that a majority of songs on the album avoid pandering to kids when it comes to the messages. Their not written from an adult perspective as if their talking to a child, rather reflecting a basic moral logic and remembering to have fun with it. I also love the diversity of the music. Pop, Rock, Dixie, you even have some beat boxing in there somewhere. http://www.shakefire.com/reviews/cd/share-the-best-foot-forward-childrens-music-series-from-recess-music
Mommy & Me Giveaways: A review of Share! was posted on January 29. I love the mix of artists in this upbeat album and the messages given by all of the songs. What You Give is What You Get by The Sunflowers is one of my favorites and my girls laugh uncontrollably at I'll Share My Spinach With You by Brent Holmes. I love the song that the album wraps with, which is I'm So Proud of You by Anna Moo, as at the end of everyday, this is the ultimate message that I want my girls to know. http://mommyandmegiveaways.com/?p=10237
Tracks from Share! were played on KDHX (St. Louis), AshevilleFM (Asheville, NC), WDBX (Carbondale, IL).
We also had one new review break recently:
Through World Vision, Shé is committed to making a difference in the lives of children who are struggling just to survive. Together, we can bring smiles and laughter to children in need. Please visit – www.worldvision.ca